He works hard to provide. Provide for himself a sense of fulfillment through his contribution to society. His wages support the home that you have built together. He realizes and acknowledges that the work you do is just as important for similar, or even different reasons. He protects who he loves. He protects his investment by regularly investing his time, energy, and other resources. His love goes beyond words. It translates into dinners made for a weary wife, late night feedings for the little one, and tidying up the house before you bring clients over for dinner. He's got your back. He chooses his words carefully, encouraging his seed, depositing wisdom for life. His daddy duties know no boundaries …well maybe a few. He knows that firmness and softness are two sides of the same coin decorated with strength and sacrifice. He actively partners with you to raise morally responsible adults. Loving, creative, strong, and hardworking, just like him. Their hero. He is the answer to your prayers. You are an answer to his…and mine.
I am the mother of a smart, handsome, and funny young man. While there are many things that I wish for him. I want him to have an understanding of what it means to be a husband and a father before he becomes either of the two. I hope to raise a man who is aware of his strengths and weakness with a willingness to use his strengths to better his relationships. As well as the ability to admit when he is weak in an area allowing his wife to step in and meet him there if she can. As a mother, I want to equip my son for life. I want him to enjoy his relationships not just for what others provide for him, but for how he can enrich the lives of others; Especially for the woman that he marries and the children that he will father. They will be a part of his legacy and a part of mine.
In response to his love, I ask that you love him as you would a best friend. You know the friend you go to when you have to cry that ugly cry. If he is the one who needs to do the crying, then please respect that. Respect him and remember how much he needs your tenderness. When you see how he translates his love, acknowledge it and respond in kind. When he forgets to show how much he cares, let him be the first to know how that makes you feel. Protect your relationship with him from outsiders, these include girl friends and family members alike…even me. In other words, be mindful of what you share and with whom. Give your time, energy, and affection with the offspring he will help you create, but also remember he was there first, and will continue to be there. Know that the man who was there in the beginning will not remain the same throughout your life together.. Change is inevitable, but growth is more desirable. Strive to grow with him and not work against him. Work hard, pursue your dreams, be beautiful and strong, and demonstrate your intelligence: he'll admire that because he's got your back and you've got his.
Whoever you are and wherever you might be, remember all of these things when he finds you… and you can thank me later.
[divider]Related Product[/divider]
[mks_col]
[mks_one_third]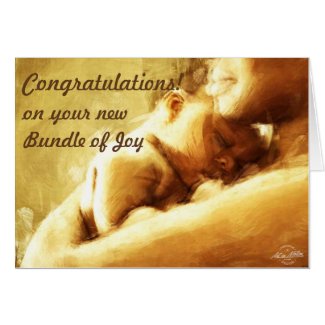 [/mks_one_third]
[mks_two_thirds]
Expecting Parents Greeting Card
This greeting card was designed by a father expecting his first child, expressing how he feels about his upcoming bundle of joy.
Order this Greeting Card  designed by Peter Mitchell from Art in Motion
[mks_button size="medium" title="Order" style="squared" url="http://www.zazzle.com/new_born_greeting_card-137996208940415005″ target="_blank" bg_color="#70d628″ txt_color="#FFFFFF" icon="icon-arrow-right" icon_type="sl"]
[/mks_two_thirds]
[/mks_col]